Join us as we host three key players in edge computing to discuss how manufacturers are making huge productivity gains through the deployment of this technology.
What is Edge Computing and what does it offer that other IT approaches can't?

What are the common challenges that an Edge to Enterprise approach can resolve?

Whether Edge Computing is secure?

How the Edge to Enterprise approach can benefit your company's digital transformation journey

How to maintain an Edge Computing platform with limited IT support

How Edge computing can work with legacy systems

What are the first steps to implementing edge?
Join The Manufacturer's editorial director, Jonny Williamson, and his guests from  Stratus Technologies, SolutionsPT and AVEVA to tackle these issues and more as they take a practical, simple, case-study led look at edge deployments that really deliver.
Webinar Speakers: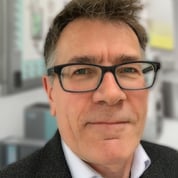 Paul Herron
Edge Computing Specialist, UK&I, Stratus Technologies
Paul Herron is a seasoned Process Control and Automation expert. Paul started work with a prominent manufacturer and has since held numerous technical roles with major automation suppliers. Selection of the most appropriate technology is Paul's main driver. He believes that starts with understanding the customers' needs and business drivers.